Abdominoplasty, breast lift and augmentation case study
Case study: Fiona Wardrop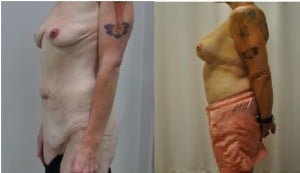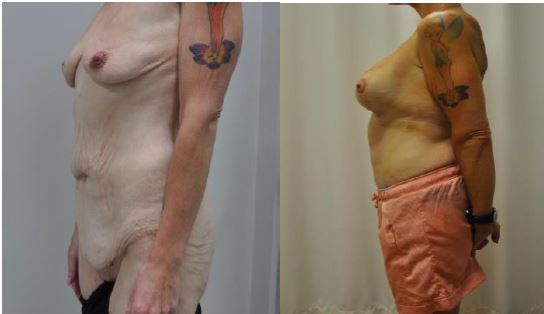 In May 2013 Fiona Wardrop weighed 133 kg. She had been a big girl her whole life. Her breaking point was when her 8 year old son told her she looked like a pig. That day, she made a decision that would change her life.
She googled weight lost and after meeting all the tests and been approved as a patient, on 5 September she underwent gastric sleeve surgery. From that day on she started eating healthy, quit smoking, stopped drinking and stopped using salt. She went into it with her heart and soul.
3 months later she lost 46 kg. She was very proud of herself. She had the full support of her husband and family. Before surgery she had no energy. She couldn't sleep properly and her stomach was in her chest. She hated the way she looked. In Nov 2012 after losing 95% of her body fat she decided to have a tummy tuck and breast augmentation.
From the first day she met Dr Barnouti she was comfortable dealing with him, she didn't feel like just another patient. She had her tummy tuck, hips liposuction, breasts lift and implants done on the same day. Few days after surgery she was feeling uncomfortable but did not have immense pain. 14 days later the stitches were taken out and 6 weeks later she had the bandages and compression removed fully.
Today she is thrilled with the results and her amazing journey is continuing as she is now training with a one on one personal trainer. Her stomach is toned and her breasts are no longer saggy.
In her words, "I definitely kissed that fat girl goodbye the day I decided I didn't want this life anymore." The tummy tuck and breast augmentation increased her confidence 100% and today she is proud of the way she looks. If you are considering surgery, it is vitally important that you chose a specialist Plastic Surgeon who performs the procedure regularly. For more info visit www.plasticsurgery-sydney.com.au or
call 02- 9561 0222.
"Dr Barnouti performed a tummy tuck, breast lift and augmentation on Nov 13. What can I say. wow what a surgeon. Professional, kind and fantastic at what he does. Can't thank him enough. I now have my confidence back and walk around with pride. What can I say? Thank you Dr Barnouti."