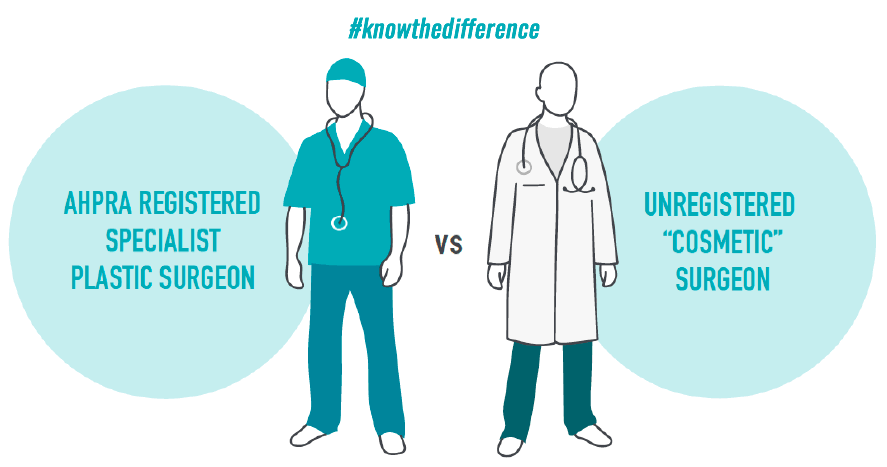 There is a patient safety issue in Australia and New Zealand in the Cosmetic Surgery industry. Practitioners who are not formally registered as specialist surgeons in plastic surgery are carrying out procedures under fake titles, such as 'cosmetic surgeon', and as a result are exposing unsuspecting consumers to invasive surgical procedures, with a risk of a negative outcome.
To help raise awareness of this problem and improve patient safety, The Australian Society of Aesthetic Plastic Surgeons (ASAPS) has launched Know The Difference.
Know The Difference is a campaign designed to educate consumers on the differences in registration status and AMC accredited surgical training between registered and non-registered Plastic Surgeons, and the associated dangers of undergoing procedures with practitioners who are not registered nor recognised as specialist surgeons by AHPRA, MCNZ or Medicare.
Any practitioner not registered as a Surgeon but operates under the fake title 'cosmetic surgeon' is acting unlawfully by breaching the National Law, and may put the consumer at risk.
With patient safety front and centre, ASAPS has created a guide to tell you what to look out for and what to avoid so that you can select the right surgeon.
Click here to download The ASAPS Guide to Choose the Right Plastic Surgeon and the 7 Critical Questions to Ask your Plastic Surgeon
Before you commit to undergoing plastic surgery, check that your surgeon is legally registered via the ASAPS #KnowTheDifference surgeon-register
WHEN IT COMES TO COSMETIC SURGERY YOUR CHOICE OF SURGEON DOES MAKE A DIFFERENCE.