Dr Barnouti In the Media

A SYDNEY based surgeon has called for a drunk tattoos ban as he is fed up of removing them. Dr Laith Barnouti demanded customers be sober, clear-minded and consenting. He said drunk people are not in the right frame of mind when they first get a tattoo  Read more
---

A SYDNEY hospital has banned its surgeons from using Snapchat during surgical procedures, due to fears they could be sued by patients over privacy or negligence issues. Read more
---
Dr Laith Barnouti recently featured in the well known television program "Embarrassing Bodies Down Under". He carried out a radical abdominoplasty and liposuction on a patient after her drastic weight lost. Read more
---
Dr Barnouti was asked to provide his expert opinion in the article "Would you nip overseas for a tuck?" which featured in The New Daily on 12 May 2014. Read more
---
Dr Barnouti and his team were asked to appear on the Footy Show. They discussed the rise of male plastic surgery and the most popular surgeries which males are asking for. See a copy of the clip here
---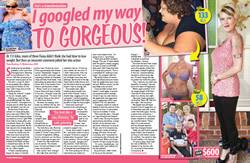 Dr Barnouti helped Fiona Wardrop transform her life and "become a new woman." Read her story which appeared in That's Life
At 133 kilos, mum of three Fiona didn't think she had time to lose weight. But then an innocent comment jolted her into action
Standing by my wardrobe, I grabbed a skirt and tried to wriggle into it. Glancing at my reflection in the mirror, I felt like screaming at the person staring back at me.
The skirt, a size-24, didn't fit me properly. But, sighing at the pile of clothes on the bed, I didn't have time to find something better….. Read full story here
---
The petite starlet was grinning from ear to ear when she stepped out in New York last week. But a very revealing top ensured it wasn't Selena Gomez's beautiful smile we were looking at all eyes were on her generously proportioned bosom!
Something you'd like to get off your chest, Sel?
With not a bra in sight to suggest a push-up, her larger-than-life breasts have prompted whispers Selena's taken drastic measures to try and win back her on-off beau Justin Bieber. Read full story here
---
Dr Barnouti helped Fiona become a "Super Slimmer". She also used her retirement saving to cover a tummy tuck and breast implants.
---
Rise of the designer vagina. Read how Dr Barnouti helped Petrina. This story featured in "That's Life"
---
SMH interviews Dr Laith Barnouti for his expert opinion