Laser Vaginal Rejuvenation
CO₂ Vaginal Rejuvenation Laser, a combination of ablation and micro thermal effect.
The versatile nature of laser has been implemented in a new way for vaginal rejuvenation.
Vaginal Tightening CO₂ Fractional and Surgical Mode Laser are available in our clinic.
Indications for vaginal laser
Vaginal
Vaginal Tightening and Thickening producing tighter, more elastic and rejuvenated vagina.
Treatment of vaginal dehydration and dyspareunia
Remodelling of Vaginal mucosa
Vaginal Rejuvenation by reducing vaginal atrophy. Symptoms include vaginal dryness, burning sensation, vaginal discharge, genital itching, burning with urination, and decreased vaginal lubrication during sexual activity.
Improve stress urinary incontinence.
Labium and Vulva
Enhance the appearance of Pigmented Vulva by lightening the skin and achieving a pink vulva with a natural and silky texture.
The laser machine lightens the colour of the labia.
Reduce Wrinkles and tightness labial skin
Increase elasticity
Clinical outcome of vaginal laser:
Vaginal tightening and increased elasticity
Collagen remodelling of vaginal tissue
Treatment of insufficient vaginal secretion
Treatment of vaginal atrophy
Treatment of vaginal dryness and urinary incontinence
Advantages: Minimally invasive, no anaesthesia, no incision, no bleeding, no shaving.
How long does it take? It takes 15min. Back to work immediately, no sexual activities for 3 days.
Cost of Vaginal laser
One treatment $1,500.
We recommend 4 treatments 4 weeks apart. A package deal of $5,000
The technology
W-Pulse for rejuvenation
Combination of ablation and micro thermal effect.
RF Module with higher quality of laser beam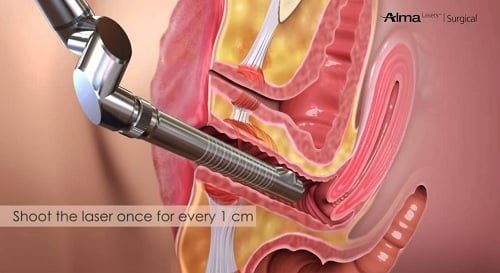 The technique has been popularised by Aphrodite Laser, Mona Lisa touch and Baladona Vaginal rejuvenation resulting in a tighter, more elastic and rejuvenated vagina.
Call us on 02 9633 24 23 or 1300 770 660 for booking or send us online enquiry
How to Book?
Call us on free phone 1300 002 006 if you are outside Sydney or 9561 0222 if you're in the Sydney area