Chin implants Sydney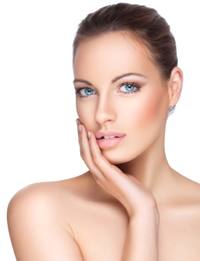 A chin augmentation will strengthen your profile by making a weak chin more prominent. This can improve your jaw and have a remarkably positive impact on the appearance of your nose.
They also create more projection laterally and frontally resulting in a youthful appearance.
Surgical chin implants Sydney characterises relatively small changes to your face that can have significant effects on the overall facial appearance.
Many types of procedures can be used for these augmentations, alone or in conjunction with other operations.
How to Book?
Call us on free phone 1300 002 006 if you are outside Sydney or 9561 0222 if you're in the Sydney area
Planning your treatment (Surgical and non surgical soft touch treatment)
The Consultation
Dr Barnouti of Sydney Plastic Surgery provides you with a range of options to suit your individual needs, and this includes;
1. Soft touch treatment: using injectable fillers, hylorunic acid and/or collagen injected with a fine needle in the office, this will produce an instant effect that last for 3-12 months.
Dr Barnouti maintains on performing these procedures himself, rather than have his staff provide these services. Despite the extra time it takes, the surgeon feels that his in-depth knowledge of facial anatomy gained from his surgical experience allows for more refined injection techniques. The key to the injections is the achievement of a balance between your upper and lower lips, while maintaining the appearance of a natural fullness.
The results normally last 3 to12 months, at which time an additional injection is required. After a number of treatments, the results begin to last longer. We recommend treatment every 3 months for the first year, and then repeat treatment as required.
This treatment is provided on the same day of the consultation in the office.
2. Surgical procedure: using either your own fatty tissue or an implant creates an attractive, long lasting refinement to the areas of your lower face and jaw, usually performed under General anaesthesia or local anaesthetic with some sedation. The procedure is done in a day surgery setting, takes about 45 minute and produces a permanent result.
For surgical chin augmentation using your own fatty tissue, there will be no scar. On the other hand, if you had an implant surgery, then the scar will be 3-4cm long under the chin or unseen inside the mouth.
To select on which treatment you need, book a consultation now and discuss the options with Dr Barnouti, your plastic surgeon.
After the Surgery
You will go home the same day.
We will advise not to have warm fluids or hot meals for 24 hours.
Swelling Lasts 1-2 weeks. You can reduce swelling through constant head elevation.
The sutures are dissolvable and require no removal.
Getting you back to work and normal activities after chin implants sydney
You will require rest for 1-2 days followed by light duties for 5days
Back to normal activities in one week.
Chin Augmentation cost:
| | | |
| --- | --- | --- |
| Procedure | Price Estimate | Conditions/ Comments |
| Insertion of chin implant | $7,900 – $11,990 | This price includes surgeon fee, implants cost (Silicone or Medpor implants ) anaesthetic fee, Day surgery fee & 6 weeks follow up |
| Fat Transfer- Chin Augmentation with Fat injection. | $3,900 | This price includes surgeon fee, anaesthetic fee, Broadway day surgery fee & 6 weeks follow up |