The "Pippa Butt Lift". Buttock lift or reshaping
She stole the show at her sister's wedding to Prince William and now more and more people are wanting  "Pippa's Butt". In fact, "Pippa's Butt" has now become acceptable terminology in the cosmetic plastic surgery field. It is used to indicate a nice full and perky butt in proportion to the body as opposed to the J Lo or Brazilian butt which is more enhanced and bigger than "Pippa's".
Since the royal wedding I have certainly noticed an increase in enquires from people wanting to have "Pippa's Buttock". It goes with fashion and increased awareness about the availability of such procedures. With advanced techniques we can now produce a firm, youthful and attractive buttocks, hips, waist line and whole back area. Such procedures enhance self-esteem in both social and intimate settings. It also improves lifestyle, clothes selection and encourages people to exercise and maintain better figures.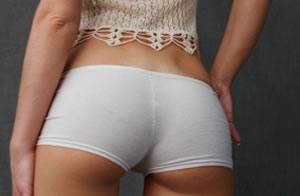 Buttock surgery that is becoming more in demand are buttock lift, buttock reshaping, buttock liposuction and buttock enhancement.
Individuals that desire to enlarge, lift, and reshape the buttock mounds, have 2 options:
1. Enlargement with fat transfer (your own fat)
2. Or using a variety of different size and shape silicone buttock implants.
In some countries like Brazil, where I was fortunate enough to spend some time at the prestigious Ivo Pitanguy Clinic in Rio de Janeiro, performing buttock and breast augmentation surgery, butt lift and augmentation are as common as breast surgery. Culturally the South American pays a lot of attention to their butt. Maintaining nice curvy body figures starts from the breast and ends at the lower aspect of the buttocks.
At my practice, it is now very common to receive enquiries about "Pippa's Butt, J Lo's Butt or Kim's Butt".
Please feel free to contact Sydney Plastic Surgeon Dr Barnouti to make an appointment at his Sydney, Burwood or Chatswood clinics if you have any questions about buttock lift or reshaping or any other plastic surgery procedure. Tel: 1300 002 006 or 02 9561 0222.
Dr Barnouti's email is
drbarnouti@australiaplasticsurgery.com.au